Art Exhibit
Through March
"Taking Time to See": Photographs by John Snell
"In all of my photographs I work hard to see the natural balance—or tension—that so often exists in life. I feel such immense satisfaction when I see that and am then able to photograph it successfully. While I love to travel and make photographs around the world, much of my work is made within a few miles of Montpelier and a number were right in my backyard. I nearly always find our world, no matter the place or the season, stunningly beautiful and, when I am simply open, available for my appreciation. The world I see is an inspiration!" –John Snell
Adult Library Programs
Monday-Saturday, 1:00 PM to 5:00 PM
Navigating the New Vermont Health Care Exchange
Meet Nancy Sherman in the front lobby for help with the registration process

Tuesday, February 24, at 1:30 PM
Conversations with the Word Weaver
Examine the roots and definitions of words each of us uses in our daily conversations. Lois Liggett has written a 1,700-page word commentary titled the "Rooted Tongue"
Tuesday, February 25, 7:00pm
Vermont State Bank Initiative Information Session with Gwen Hallsmith
Information session with Gwen Hallsmith
Wednesday, February 26, 6:30 PM
Book Reading & Presentation: Character and the Pursuit of Happiness
Agnieszka Perlinska and Chip Chapados invite you to join "The Conversation". Explore with the authors how character impacts our personal experiences of meaning, happiness and well-being. "The Conversation" started at Norwich University where the authors met and taught in the Social Sciences Department. It evolved over two decades of further conversations that Agnieszka and Chip shared in the course of their friendship and professional collaboration as productivity and leadership consultants. The book is a voice in today's debate on how to define happiness and success.
Thursday, February 27, 2013 at 6:30pm
Montpelier Ukulele Group Concert
Come sing a long as the Uke Group plays their songs. Guaranteed to make you smile! Who knows—maybe you'll take up the ukulele!

Children's Library Programs
Monday afternoons, 3:30 to 4:30 PM
Sit N Knit
For first timers or superstar-knitters alike. Bring a project you are working on or start one with leader (our friend) Joan Kahn. Ages six and up welcome-- under nines accompanied by grown-up
Tuesday, February 25, 10:30 AM
Storytime Presenting... Ben t. Matchstick
Fun for toddlers/preschoolers...and to those older siblings on school vacay! Wheeee!
Wednesday afternoons, 3:30 to 4:30 PM
Read to Coco
Our old friends Coco and Martha are back!! Ready to hop on those beanbags and read...Sign up for a 20 minute block.
Thursday afternoons, 4:00 to 5:00 PM
Read with Arlo
Come and meet a new furry friend....reading therapy dog Arlo and his owner Brenda. It's Arlo's first gig at the library so come by to say hello or sit and read. Sign up for a 20 minute block.
Friday, February 28, 10:30 AM
Storytime at the Library
Stories, songs and special guests for children ages birth to 5
This beautiful 3'6'' x 5'2'' rug was generously donated by Global Gifts!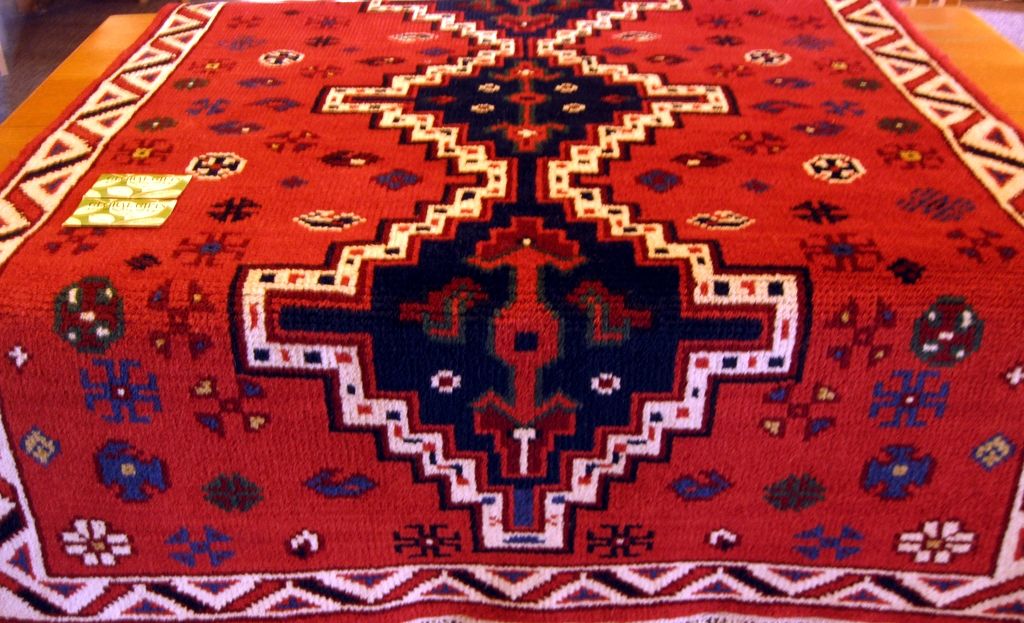 Tickets are $2 apiece, 6 for $10, and 15 for $20
Buy your tickets at the adult circulation desk
Drawing is March 14!
Value of the rug is $325. This wool rug has a cotton foundation. The geometric design will enhance any decor.
Thank you Global Gifts for supporting KHL!
"Navigating the New Vermont Health Care Exchange" has time changes for Feb. 7 and 12. Peter Sterling's new times are 10 AM-12 PM on the 7th and 10 AM-2 PM on the 12th. All other dates and times remain the same. They are:
February 13, 10 AM-2 PM
February 18, 1:30-5 PM
February 21, 11 AM-2:30 PM
All currently scheduled installments of the Cinema Borealis series have been cancelled. The series may be rescheduled.
Page 2 of 5